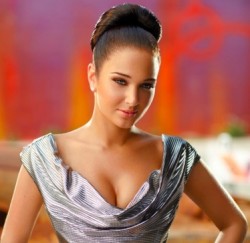 Tulisa has said she's never been more scared then when she performed on The X Factor the other week.
Mind you, you probably would be if you were one of the UK's worst popstars.
"That was ter­ri­fy­ing, I don't even want to talk about that," she told someone on This Morning (as quoted here). "I have never been so scared in all my life."
Ignoring her own advice, she carried on chatting away about the per­form­ance of Top 20 smash, 'Sight Of You'.
"For some reason, just doing it there, the pressure is com­pletely different. I don't even get nervous anymore usually and I literally was just shaking. My legs started going, I thought I was going to faint. I couldn't control what I was doing."
"I couldn't under­stand it," she went on. "But I think it's because of the whole year I have been through and just feeling like the media attention was on me and the pressure from the public and I just felt like I was being judged so much that it literally cracked me."
Now she knows how poor Christopher Maloney feels.