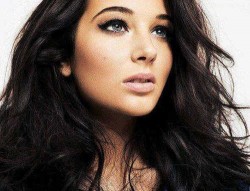 Tulisa and her cousin have had a bit of a row on Twitter.
Last night, Tulisa suggested that Dappy's departure was the reason for the sad demise of N‑Dubz pointing out that "dappy left ndubz,that's y we split".
She went on to reveal that despite Dappy telling the press that he dearly misses his former bandmates he "got a new num[ber] n I aint heard from him since, he aint called or made contact".
Alarmingly, Tulisa also announced that "I will kill 4 him n he knows it", but then tweeted @TheDappy directly to issue him an ultimatum.
"Pick ya balls up n call me," she demanded before asking him round for a sleep over, saying "I got a new place,cum stay,but dont b an ass on twitter."