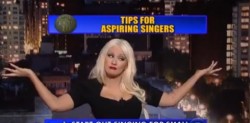 Christina Aguilera has given aspiring singers tips on how to make it.
Appearing on The Late Show With David Letterman last night, the 'You Lost Me' hitmaker gave ten 'irrev­er­ent' tips on how to be a singer.
"Try to be born with an awesome voice", she says, before pro­ceed­ing to tell us that the best way to warm up vocal chords is to meow like a kitty. She then meows. To our knowledge, this is the first time Christina has ever meowed on national television.
Referencing her blip earlier this year when she forgot the lyrics to 'The Star Spangled Banner', Christina also advises aspiring singers to "learn the national anthem".
So human, so inspirational.