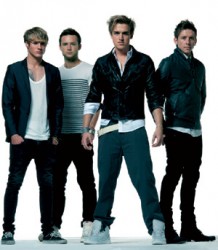 Just My Luck stars Tom Fletcher and Dougie Poynter have got them­selves a book pub­lish­ing deal.
Talking to the
BBC
, Tom described their first novel, The Dinosaur That Pooped Christmas, as your typical everyday tale "about a boy who gets a dinosaur for Christmas which goes on an unstop­pable festive eating rampage until Christmas is gone".
Despite the comedic title, the guys are serious about their new venture. "We want people to know that this book comes from a genuine passion for writing and reading and it's hopefully the first of many," said Tom. "We wrote what we found funny, a book we would have loved as kids".
Tom said the inspir­a­tion for the opus came from "Dougie's fas­cin­a­tion with dinosaurs" and "my love for Christmas and a shared obsession with poop".