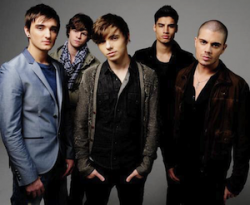 A "data pro­cessing error" looks set to dis­ap­point quite a few fans of ban­ter­ific ladband The Wanted.
The 20,000 tickets for their June 30 'gig' to celebrate the arrival of the Olympic torch to Birmingham were ori­gin­ally available via Ticketmaster through a ballot.
However, Ticketmaster mis­takenly emailed everyone who applied telling them they could go, which means there will now have to be another ballot.
:(
Talking to the BBC, a Ticketmaster spokesman said: "Due to a data pro­cessing error, Ticketmaster incor­rectly advised all customers who had entered the ballot for tickets to the London 2012 Olympic torch relay special city cel­eb­ra­tion in Birmingham that they were winners in the ballot."
"All customers who ori­gin­ally entered the ballot have been informed of the error and that all tickets pre­vi­ously claimed have been inval­id­ated," he continued.
THANKS BORIS.