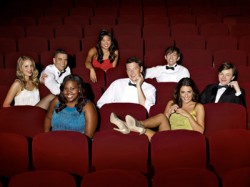 A live version of Glee is due to be shown in cinemas this summer, in mind-expanding 3D.
Billboard are reporting that the film, set to be called Glee! Live! 3D!, will feature a full live show from the forth­com­ing North American tour and will show at cinemas in America from August 12th for two weeks only.
There are no details as to when it will show in the UK so don't all rush at once.
Creator Ryan Murphy said the film will exist not simply to make massive piles of cash — it's so people who couldn't get tickets to the live show will be able to enjoy the spectacle. "We promise every pas­sion­ate 'Gleek' a cinematic exper­i­ence that will have them singing and dancing in the aisles," he says.
Well that's that sorted out.