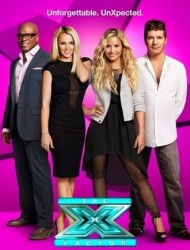 On last nights Boot Camp episode of The X Factor USA, some new cat­egor­ies for the remaining 24 con­test­ants were 'revealed'.
They are:
Teens (16 and under)
Young Adults (17–24)
Over-25s
Groups
There will be 6 acts in each category, of course.
Britney's got the Teens, Demi's got the Young Adults, LA Reid's got the Overs and Simon's got the Groups.
LA Reid had a bit of a tantrum about it all, but then brought on Justin Bieber to give the Overs an inspir­a­tional chat about how age ain't nothing but a number. The Washington Post describes it all quite amusingly in their 'round up'.
Bieber has been kicking off, however, about being "used for ratings" on last night's show. Apparently he's properly on tonight, and last night they only 'trailed' his upcoming appear­ance. Oh dear.