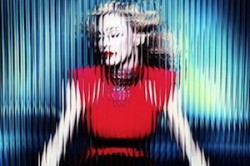 In honour of Madonna starting her MDNA world tour there, the du Arena in Abu Dhabi has undergone 'a few' alter­a­tions, reports Gulf News.
Mira Sadek from Flash Entertainment, who are dealing with the whole shebang, described the shows on June 3 and 4 as "one of the most sig­ni­fic­ant events in the history of regional live enter­tain­ment", which led to the decision to enhance "parking and entrances", "walkways" and, indeed, "sight lines".
Further changes include the install­a­tion of cooling domes and misting machines to keep people at the right tem­per­at­ure. Also, if you've got VIP tickets then you'll now have dedicated walkways, air con­di­tioned lounges, some food and a DJ playing in the lounge before Madonna comes on.
Details about what the actual show might include are scarce but we do learn that Madonna will be on a can­ti­lever stage that's 23x54 metres, has a catwalk and some complex pyro­tech­nic and lighting stuff. Amazing.