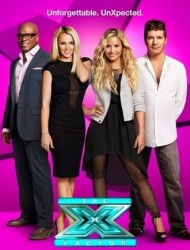 Simon Cowell has confirmed that there will indeed be a third 'season' (series) of US X Factor, despite rumours that it was due to be 'axed' following so-so ratings.
"I wanted you guys to be the first to know that FOX have confirmed that @TheXFactorUSA will be back next year for it's third season," the Girl Thing guru noted on Twitter.
"It was important for you to be the first to know because it is thanks to your support and enthu­si­asm we are coming back," he continued.
Clearly a little bit relieved that he won't have to come back to the UK and endure Louis Walsh anymore, he added: "I want to per­son­ally thank each and every one of you, it is hugely appre­ci­ated and never forgotten."