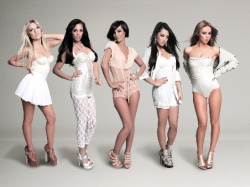 The Saturdays have revealed that they are not inter­ested in breaking through into the US market anytime soon.
The 'girls' told Digital Spy that they would like to con­cen­trate on the UK for the time being, but will also be expanding into European markets such as Germany.
"America is that bigger step and I don't think we really want to rush away from Britain just yet. We'll kind of get there, when we get there," explained Frankie.
Mollie also took the time to decipher the meaning of their new single 'Notorious'. "It's about when you step on to the dance­floor," she explained, "and transform into a com­pletely different person — when you turn into a bad girl!"
'Notorious' was released on iTunes on Monday and is currently sitting somewhere in the Top 10.