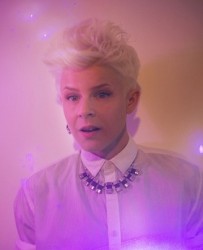 Fleet Foxes have promised Robyn they will do a version of one of her songs.
The cover has come about following a Twitter mis­un­der­stand­ing in which Robyn thought popular Fleet Foxes tribute act 'Fleet Foxes Sings' were the real thing and had recorded 'Dancing On My Own'.
She rather embar­rass­ingly tweeted "Im very flattered that @fleetfoxes covered "Dancing on my own"".
Realising her Fleet Foxes faux paus she later posted, "Fleet Foxes Sing" sure fooled me".
However, Fleet Foxes frontman Robin Pecknold has been in touch to say: "Robyn! Even though FF Sings was fake we WILL cover something! I'm obsessed with you and think you're the greatest!"
Fleet Foxes have agreed to cover 'Call Your Girlfriend' to save Robyn's blushes.
Well done everyone.