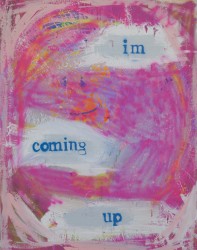 The 'paintings' of Robbie Williams could soon be gracing the walls of your front room as he's reportedly planning an exhibition.
Robbie has converted his LA garage space into a studio where he has been creating some mixed media 'art' of late, including some portraits, some stencil graffiti and some 'abstract' splodgey ones too.
In April he said on his blog: "In our down time…which hasn't been much, i found I really liked painting — of course I then had to turn my whole garage into 'art club'".
A rather indis­creet friend told The Sun that he's kept it up and his work is "getting better". They said: "I don't know if he plans to sell them, but I am sure they would fetch a good price. It would be something to talk about when people ask who'd done the painting on your lounge wall."
Perhaps, but we think you'd be more likely to hear the question 'what the fuck is that shit?'.