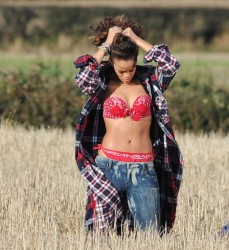 Director Peter Berg always expected there "was a great actress in Rihanna".
Rihanna stars in Berg's forth­com­ing Battleship film, with the director saying he could see her potential from her music videos.
"For anyone that's been on a music video set, it's not so easy to do sexy," he told BBC's Newsbeat. "If it was, there would be a lot more Rihannas."
He also admired her for her lack of diva antics, claiming the she "lived in this small really unglam­or­ous hotel room for four months". Also, if that wasn't bad enough, there was "nothing but really bad dried food".
Battleship is realised in April.