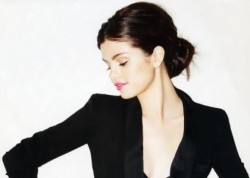 Selena Gomez has declared that her next album may or may not be about Justin Bieber, but those expecting an in-depth con­fes­sional portrait of the pair's rela­tion­ship are going to be disappointed.
"It's not going to be neces­sar­ily, 'Here's my tell-all.'" Selena told E! Online of the new 'LP'.
The enigmatic chanteuse continued: "It's going to be more of something that people could say, 'It could be that or it could be this or it could that.'"
"At the end of the day I only make my music because I want it be really fun and if I could have people dance to it, relate to it, have a good time, that's all I want.''
Yes Selena that's great but did you wank him off in a lift or not?