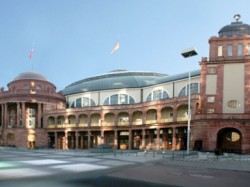 MTV has announced Frankfurt as the host city of the 2012 EMAs.
The "iconic inter­na­tional award show" will take place on November 11 and it will be the second time the city's Festhalle has hosted the annual European cel­eb­ra­tion of American music.
No per­form­ances have been announced yet but organ­isers have promised a "gigantic global party" including some "truly shocking surprises".
Hopefully not LMFAO pro­lapsing on stage.