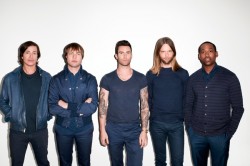 The absolutely-no-changes-and-that's‑final version of Maroon 5's next single, 'One More Night', has been leaked by someone a bit naughty onto the inform­a­tion highway. You can listen to it here.
The single, produced by Shellback, Max Martin and Savan Kotecha, will be the second from their new 'pop ori­ent­ated' album 'Overexposed', following 'Payphone' (which was finally released this weekend in UK).
The song is available on US iTunes from June 19 but no UK release date is set as yet, which given the whole 'Payphone' scenario probably isn't too surprising.