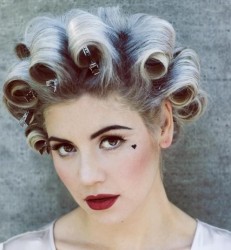 A new Marina & The Diamonds song will appear on the American release of 'Electra Heart'.
The US standard edition of the 'Oh No!' hitmaker's second album, the track­list­ing of which can be seen here, will include a new track, called 'How To Be A Heartbreaker'. Also on the US standard edition for some reason are UK bonus tracks 'Radioactive' and 'Sex Yeah'.
Speaking of the different track­list­ing for the American market, Marina reveals that her label wanted her to cut some songs to make the album 'cleaner'. "And you know what they wanted me to cut?" she asks, "'Teen‑f'ing-Idle', which is like one of the favourite tracks now."
"So it just kind of goes to show sometimes your artistic instincts are right, and that's what should be heard."
So true, Marina. So true.