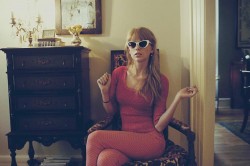 She's won 75 Grammys, 32 American Music Awards and 21 Brit awards but Taylor Swift has finally been crowned Tennessean of the Year for 2013.
The accolade was bestowed upon her by Nashville's The Tennessean newspaper and aims to celebrate "the person who has made the most excep­tional con­tri­bu­tion to the lives of Tennesseans this year".
Previous winners include sci­ent­ists, politi­cians and Dolly Parton.
Your friend and ours Nashville mayor Karl Dean had this to say about it all (as quoted here):
"She's one of the most dynamic and popular musical per­formers in the world, and she's perceived as having universal appeal across cat­egor­ies. She tran­scends genres, and that's a great thing for the city."
Transcending genres is a must for any city, let's be honest.