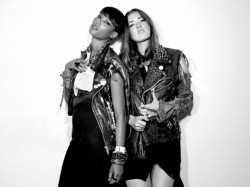 Quite good producer Style Of Eye has mixed the new album by the quite good Icona Pop into a ten minute mash-up thing.
The album — which is out in America on September 24 and in the UK on October 14 — is being billed as their debut but as we all know there's also quite a good 'Sweden-only' album that came out last year.
Anyway, it all sounds quite promising, espe­cially 'Hold On' and 'Just Another Night'.