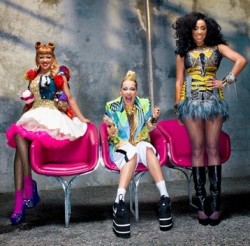 Gurning songbirds Stooshe don't want their fanbase to have a clue what they're singing about.
Sending the disin­genu­ouso­meter into overdrive, Karis told Metro: "We hope that if kids are listening to it they just pick up more on the melody rather than the lyrics and they don't actually under­stand what we're saying."
The trio hope that grown-ups, meanwhile, can relate to such poetic musings as "don't be leaving me no pearl necklace", "every hole's a goal for spotty juve saps" and the subtle metaphor "fuck me".
Karis explained: "Adults will under­stand what we're saying and maybe buy into us because of that."
Maybe Karis, yes.