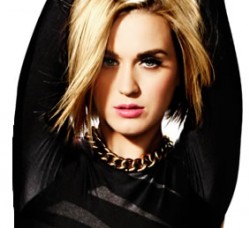 Katy Perry has allegedly been approached by a number of pub­lish­ers to 'pen' an autobiography.
The Sun claim that three book companies in par­tic­u­lar are vying for a contract with Perry, rumoured to be worth £2m.
Themes that could be touched on in the book include her strict upbring­ing, struggles to break into the music industry, her later moderate success and of course her marriage to and sub­sequent divorce from Russell Brand.
Speaking about that par­tic­u­lar chapter, a 'source' said: "When everything was going well, Katy couldn't stop talking about him. Since the split neither of them have said anything – keeping the price of a deal high."
Perry's life is also sup­posedly being made into a film.