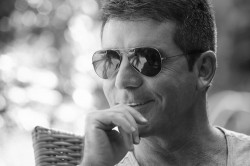 Simon Cowell has blamed the poor ratings for The US X Factor on talent show "overkill".
"We were expecting there was going to be a problem with the ratings this year," the former Power Rangers A&R said (as quoted here), "not just with us but with everything, because it's overkill, there are way too many talent shows on."
Citing The Voice's decision to move their shows, Cowell continued: "Once The Voice decided to go Monday, Tuesday and we were Wednesday, Thursday — I use the expres­sion it's like having 14 sugars in your coffee when you want two."
Except more people wanted to watch The Voice's 'sugar' than US X Factor's, which is sort of the problem really.
Anyway, it's all about legacy for Simon.
"I've done this for 10 years," he continued. "The one thing that's the most important is the legacy you leave behind each year. The legacy we're going to leave behind is strong, not just with (Tate Stevens, Carly Rose Sonenclar and Fifth Harmony, the US X Factor finalists, obviously) but also with artists like Emblem3. That's what we're judged on."
Sure.