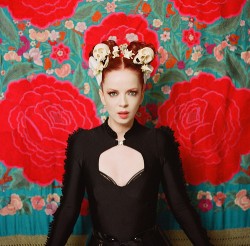 Shirley Manson has blamed the seven year gap between Garbage's studio albums on their old record label.
Talking candidly to Billboard she said the band, who were pre­vi­ously signed to Interscope's Geffen Records, "were just at odds with the whole (major label) system morally and intellectually".
"We were stuck with a record label who didn't give two flying shits about us because they couldn't get us on the radio," she continued. "They were totally dis­in­ter­ested and washed their hands of us… We were con­stantly sur­roun­ded by such neg­at­iv­ity that it just ends up eating away at the indi­vidu­als in the band and we began to take it out on one another."
"It was not a good situation," she added.
Mind you, it wasn't just the band Geffen weren't inter­ested in. They also rejected a Shirley Manson solo album: "They thought it was too obtuse and too dark and they couldn't get it played on pop radio and they wanted me to be the kind of artist to make big pop hits."
Heaven forbid.