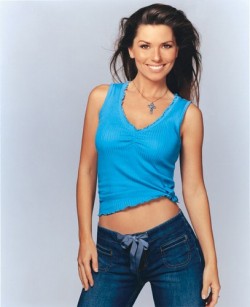 Shania Twain's recent divorce from producer Robert 'Mutt' Lange and the pressures of the industry have left her unable to sing.
In a promo clip for her new Oprah Winfrey Network show, the bril­liantly-titled Why Not? With Shania Twain, she claimed she had lost the ability to express herself and the ability to sing.
"I felt the pressure to be better and better all the time," she says. "It just affected me."
It's not all doom and gloom. Twain stated that she hoped that meeting people in a similar position would inspire her creativity.
Her last album, 'Up!', was released in 2002, and it was pretty fucking amazing thanks for asking.