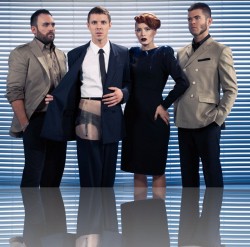 Notoriously reserved popstars Scissor Sisters are going on a 'hiatus'.
They made the announce­ment last night at their London show at the Hammersmith Apollo. We missed the sad announce­ment because we had some other stuff on, but Gigwise have quite a good round-up.
"This will be the last time we will play in London for quite some time," said Jake Shears, while Ana mused that the UK fans were "the ones who got us first — and always get us best".
"Don't you worry — this isn't the last you've heard of us," said Jake at the after party.
It remains to be seen whether this 'hiatus' nonsense is of the 'Girls Aloud', 'Spice Girls' or 'Abba' variety, but it's probably going to be a good few years before we get another 'Ms Matronic's Magic Message'. Apparently Del Marquis is doing some more solo stuff, while Ana herself is working on a comic book.
Well done everyone.