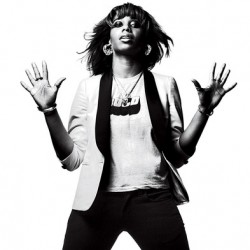 Santigold has spoken about her new album, which she describes as "dynamic and powerful", to Billboard. It will be her first release since signing to Jay Z's Roc Nation in March.
"I still have the songs that sound very elec­tronic and clubby", she said, before adding that her as-yet-untitled second album would also include her "own type of ballads".
"They just sound big, like the way some old Kate Bush or Peter Gabriel songs were… on this one song, we did a whole section that has a bottle used as the per­cus­sion, so there's layers upon layers of Greg Kurstin playing a bottle and literally filling it with different layers of water, and stacking each note. Mixed with a marimba and taiko drums!"
Great.
Santigold confirmed that the album's first single would be out before the end of the summer, but the song title and release date are not yet known.