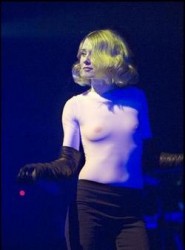 This morning a video was released for 'Boadicea', Roisin Murphy's col­lab­or­a­tion with Dutch pro­duc­tion duo Mason.
As you might expect, the video features a strong woman, in this instance a girl living on a council estate who takes revenge on the men in her life.
Though Roisin is not in the video, there is a pretty good moment at 2:21 when the camera zooms in on a poster of Roisin, providing the cue for the prot­ag­on­ist to transform from put-upon victim to vengeance-seeking Boadicea.
'Boadicea' comes 4 days after Roisin's col­lab­or­a­tion with Toddla, 'Cherry Picking', was released as a vinyl-only Record Day exclusive.