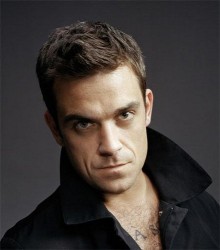 Take That singer Robbie Williams has announced that in between growing a (greying) beard, searching for the Caps Lock key and trying to remember the lyrics to his old tracks, he has managed to find time to write words for some new songs.
Shouting on his blog, Robbie revealed that in terms of 'LYRIC PROGRESS' he had written:
"EVERYTHING I NEEDED TO FINISH…AREN'T I A GOOD BOY?"
Yes, well done Robert. What's this new stuff like then?
"THIS ALBUM IS BY FAR MY MOST CONSISTENT"
Care to elaborate (and perhaps use your inside voice)?
"WE HAVE AN EMBARRASSMENT OF RICHES WHERE SINGLES ARE CONCERNED …HAPPY DAYS"
Sounds promising. Sadly, Robbie has given no indic­a­tion of who has been joining him in the studio or when we can expect to hear any of these lyrical mas­ter­pieces. Instead, 'JUST FOR SHITS AND GIGGLES (AMERICAN SAYING)' he wants you to compose your own dream setlist for a future tour that he may or may not undertake. Here's our offering:
1. Get
2. On
3. With
4. It