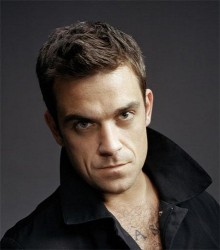 Adversary-of-the-lower-case-letter Robbie Williams has posted a new blog on his website.
"I THINK A WHILE AGO I SAID THE NEW ALBUM SOUNDS LIKE ESCAPEOLOGY," the 'Escapeology' star exclaimed. "I'LL HAVE TO REVISE THAT. THE NEW ALBUM SOUNDS LIKE NON OF THE OLD ONES". So far, so good. "I HAVE BEEN LISTENING TO WHAT YOU WANT FROM ME," he continued. "YOU WANT GUITAR/PIANO/HEART ON MY SLEEVE STUFF…OK…YOU GOT IT".
Speaking about his trip to The X Factor on Sunday, Robbie reminded us that "OLLY MURS WAS THERE" and declared "HE'S A BONAFIDE PROPER POPSTAR NOW.…I'M SURE ME AND HIM WILL BE SPENDNG MORE TIME TOGETHER AT SOME POINT".
Oh Christ.