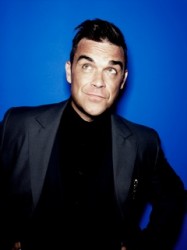 Robbie Williams has admitted he couldn't really be arsed to promote his last album 'Reality Killed The Video Star', but that he's fully behind the new one.
Chatting to people backstage at the GQ Men Of The Year Awards thing, the 'Win Some Lose Some' hitmaker said (as quoted here): "I didn't bother touring the last one, I wasn't into it that much."
"I want to impress on people that I'm fully in with this one," he continued reas­sur­ingly. "I want to dominate the charts. I want to take on the world. I want to be a top pop star."
That's what we all want, Robbie.
"I'm re-energised and [the new album is] called 'Take The Crown' for that reason."
Apparently the change of heart is all down to Robbie sorting out his med­ic­a­tion: "I found the right levels and I thought, 'This is it. Go and take on the pop charts.'"
Hurrah.