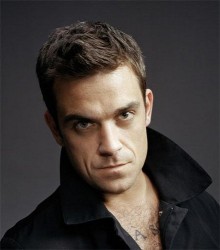 Robbie Williams has announced that he's teaming up with Gary Barlow to record a "Lennon and McCartney-type album".
Robbie's feeling confident, as he told Esquire: "Gaz is great for me because he knows how I should sound. He wanted to make a Lennon and McCartney-type album. That was his big idea — big, standard records."
Robbie also outlined their pro­fes­sional rela­tion­ship. "Gary is kind of unemo­tional about stuff. I'm emotional about stuff. He's solid. I'm fickle. He gets stuff done, I don't."
He says that this album might be his last chance at a global success, and would like to match the success of his earlier solo hits.
In the same interview, Robbie admits to having the sex drive of a 100-year-old man and that he has two testoster­one jabs a week to combat "tiredness".