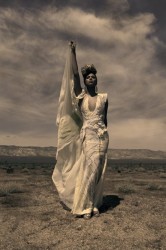 According to The Mirror, Beyoncé has arrived two weeks early for Glastonbury in order to practice in a studio in East London.
Apparently she's brought an entire entourage of singers, dancers and sound engineers with her to spend the couple of weeks rehears­ing for her headline set.
All this pre­par­a­tion allegedly stems from Beyonce being nervous about living up to her husband Jay‑Z's 2008 Gallagher-shaming triumph, but that doesn't look like it'll be a problem since her set will "include dizzying pyro­tech­nics. She's literally playing with fire."
According to The Mirror's source, Simon Cowell also wants to get hold of Beyoncé for Britain's Got Talent (of course he does) but as yet has had no success.