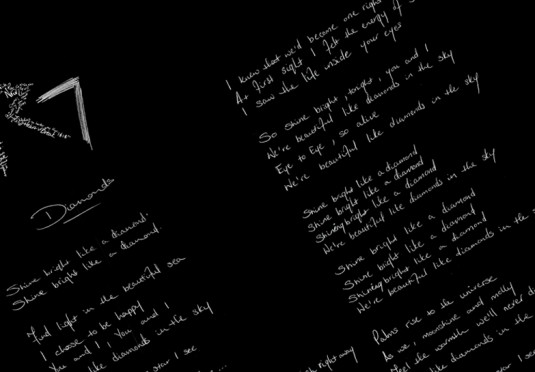 Shy and retiring singer of song Rihanna has plonked the lyric sheet for her new single 'Diamonds' on her official site.
The song is due to get its first UK radio play at 1pm today, which is incred­ibly exciting, and now you can have a bit of a singsong when it does appear.
Lines include:
"

You're a shooting star"

"

When you hold me I'm alive"

"

So shine bright, tonight, you and I"

"

Shine bright like a diamond"
And so on.
For those who like this sort of thing, the structure of the song goes likes this; intro, verse, pre-chorus, chorus x2, post-chorus, bridge, chorus, post-chorus, verse, pre-chorus, ad-lib outro.
Amazing.