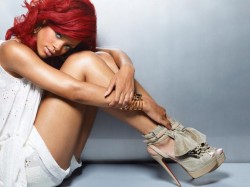 Anthony Mandler, the director of Rihanna's 'Man Down' video, has talked to MTV about what viewers can expect.
Mandler, who has worked on sixteen videos with the popstar including 'California King Bed', told 'The V' that "we shot the video last month in Jamaica and it's my favorite song she's ever recorded, so I was really excited to get involved."
Continued the director: "It's just one of those songs that demands a strong narrative and visual, and let's just say she let me go all the way. So I think you can expect something that's dramatic and shocking and intense and emotional and uplifting and enlightening."
The release date for the track is yet to be announced but it's on the bloody album isn't it so it doesn't really matter.