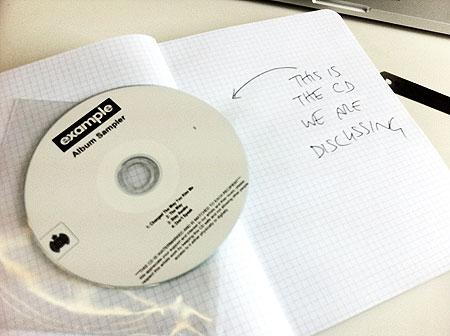 We opened an envelope yesterday and there was an Example album sampler in it. We think the envelope might have been sitting around unopened for longer than is polite but it is open now and that is what really matters.
TRACK ONE
This is the single, 'Changed The Way You Kiss Me'. As you will already be aware it is a blokerave triumph with a Faithlessy hands in the air bit and another bit where everything drops out to make way for a drum beat and a bit that sounds like a panic attack. It is obviously great.
Best simile/metaphor/figure of speech: "I need a new funfair 'cos you're scaring me." (Example does not actually own a funfair nor is he in a romantic rela­tion­ship with one.)
TRACK TWO
'The Way'. We were hoping for a sample from KC & The Sunshine Band's 'That's The Way I Like It' here and, we'll be honest, we were dis­ap­poin­ted. The song is goiod though. It seems to be Example being political. There is a lot of stuff about "gotta make a stand, can't sit on the fence all day", "we're starving, we're hungry for more of the good stuff" and a repeated chorus of "when you gonna show us the way?". Then he adds "…to home", and it seems that maybe it's just about being lost and stag­ger­ing around in the street after a bender. It is a chilled out raveular tune. The "let me hear you say eh-oh" line is an unex­pec­ted nod to tragic 90s 'dance' 'pop' duo The Outhere Brothers.
Best simile/metaphor/figure of speech: "Hold torch like Nightingale." (This is a fig­ur­at­ive torch. If real the torch being held probably does not actually resemble Florence Nightingale, but it is fair to expect that the manner in which that torch is held does reflect the way Florence is thought to have held her own torch.)
TRACK THREE
'Stay Awake' seems to be about a gen­er­a­tion staying up too late and living at 100mph, and what will happen when the comedown kicks in. Opening line: "if we don't kill ourselves we'll be the leaders of a messed-up gen­er­a­tion." It goes a bit dubstep at the 1:02 point then again at 2:24. Fear not, it also contains singing, rapping and rave noises.
Best simile/metaphor/figure of speech: "Stick around like Elastoplast." (Example is not saying that he will remain present at a location while stuck to someone's cut or graze.)
TRACK FOUR
'Don't Speak' is a nice romantic song. "With you by my side I feel like I've arrived," says Example at the start. There is a Kings Of Leon-esque "whoah-oh" bit (ie the same sort of thing that The Wanted nicked in 'Lose My Mind') and a brilliant chorus and some plinky piano and the overall effect is very enjoyable indeed.
Best simile/metaphor/figure of speech: "Let your eyes do the talking." (Eyes do not talk.)
Q: Does this sampler suggest that Example's new album will be very good?
A: Yes it does.