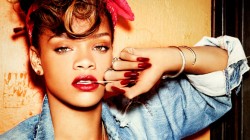 Some new details have emerged about Rihanna's new single, which will probably be called 'Diamonds' and released on Monday.
The Prophet Blog has a pretty good roundup of what we know about it so far, which is as follows:
On Tuesday, Sia tweeted: "Next Monday should feel pretty good." Why's that Sia? Because you'll have another massive worldwide hit on your hands?
Stargate's manager Tim Blacksmith has been tweeting and retweeting things about 'Diamonds' and Sia and Benny Blanco for the past week or so.
Early this morning, Benny Blanco tweeted "like diamonds in the sky…", with Sia quickly retweeting it.
Oh, and Rihanna's forthcoming tour is called Diamonds, obviously.
The 'PS (I'm Still Not Over You)' singer herself, meanwhile, has been busy instagramming pictures of herself wearing socks printed with DRUG IMAGERY.