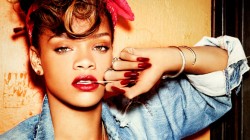 Some new details have emerged about Rihanna's new single, which will probably be called 'Diamonds' and released on Monday.
The Prophet Blog has a pretty good roundup of what we know about it so far, which is as follows:
On Tuesday, Sia tweeted: "Next Monday should feel pretty good." Why's that Sia? Because you'll have another massive worldwide hit on your hands?
Stargate's manager Tim Blacksmith has been tweeting and retweet­ing things about 'Diamonds' and Sia and Benny Blanco for the past week or so.
Early this morning, Benny Blanco tweeted "like diamonds in the sky…", with Sia quickly retweet­ing it.
Oh, and Rihanna's forth­com­ing tour is called Diamonds, obviously.
The 'PS (I'm Still Not Over You)' singer herself, meanwhile, has been busy ins­tagram­ming pictures of herself wearing socks printed with DRUG IMAGERY.