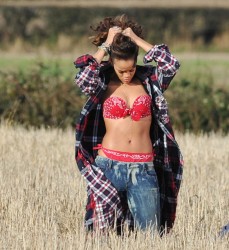 Rihanna will be designing her first 'capsule' col­lec­tion for River Island, it's been announced.
Before you hurry off down the shops to get yourselves some nice vests and maybe a denim jacket or two, it's worth noting that the col­lec­tion isn't out until Spring 2013.
"I've been wanting to design my own col­lec­tion for some time," the endorse­ment-shy singer of songs told a press release. "River Island is the perfect partner for me to col­lab­or­ate with and working with a British, family run business also really appealed to me."
"I find London really inspiring and River Island loves to have fun with clothes," she continued. "I'm looking forward to working with them and creating something really special."
Well, we're all looking forward to that Rihanna.