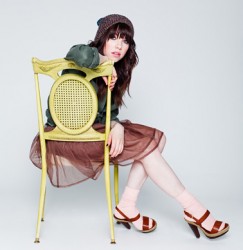 Indecisive telephone operator Carly Rae Jepsen has been chatting to MTV about the various col­lab­or­at­ors on her new album.
"The way my album has come together has been sort of a shock for me," she said slightly disin­genu­ously given that she knows some pretty high profile music business 'types', one of them being Redfoo from LMFAO.
"It's really neat," she said of their col­lab­or­a­tion. "We made friends and started working on a song together, and we actually started working on a majority of that song over the phone."
As well as working with Jack Antonoff from Fun., she's also recorded a Toby Gad song, co-written by a certain Justin Bieber. "Actually, on my first intro­duc­tion of Bieber, he was like, 'Do you wanna sing this song?' I said, 'Yes!' I love that track as well, so it was exciting," she said.
As for the rest of the album, it's "pop, but there's also dance-pop and a little hint of folk-pop".
'Folk-pop' :(