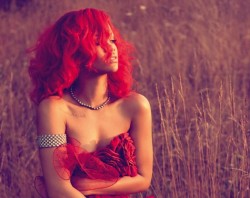 Rihanna has tweeted that she's hard at work on not one but two new music videos.
It's thought she'll release both 'California King Bed' and 'Man Down' as singles in the next few months.
Details of the videos are scarce, but it's thought 'California King Bed' will be similar to her forth­com­ing Nivea ad campaign, which uses the song as its soundtrack.
According to Rolling Stone magazine, the advert involves her rolling around a big bed with a male model. AS ONE DOES. Yesterday Rihanna tweeted a pic from the shoot, which showed just her eyes, so we at least know they will be involved somehow. Maybe they will be looking at something, or crying about something. Or both!
The 'Man Down' video has been shot in Jamaica and has been described by Rihanna as being like a movie. She also described the 'California King Bed' as "GAWJUS".