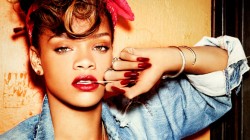 Shy and retiring singer of song Rihanna is offering us, the fans, a chance to purchase an 'Executive Platinum Box' for the bargain price of $250.
Yes, TWO HUNDRED AND FIFTY SHITTERS.
The package contains a wide variety of useless things from remixes of 'Diamonds' to an 'Unapologetic' 2GB USB Flash Memory Drive.
She also throws in the album 'Unapologetic', a t‑shirt, some photos, 7 laptop stickers, 3 device 'adhesives', a 'hand­writ­ten' note, a vinyl, some notebook, a fan mosaic poster thing and, wait for it, an "exclusive custom-made white View-Master with silver detail including a col­lect­ible vintage reel of never-before-released 3D images depicting Rihanna's iconic style transformation".
If you quite literally have more money than sense, why not pop over here and treat yourself.