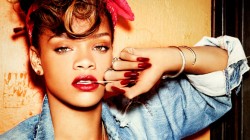 Rihanna can't meet a nice guy as she's just con­stantly sur­roun­ded by vaginas.
Stick with us on this one.
The shy and retiring singer of song had a bit of a rant to Vogue about it all (quoted here), admitting: "I have not been on a date in forever. Like two years. Haven't gone to the movies, to dinner. Zero."
"I would love to go on a date. You don't think that?," she asked us all. "I'm a woman. A young woman, vibrant, and I love to have fun. And I have too many vaginas around me at this point."
But that wasn't the end of the topic; the 'That La, La La' hitmaker took the moment to get a bit off her chest and went on quite the ramble.
"Seriously, all I want is a guy to take me out and make me laugh for a good hour and take my ass back home. He doesn't even have to come up. All I want is a con­ver­sa­tion for an hour. No one asks. Trust me on that. I'm waiting for the man who's ballsy enough to deal with me. I'm going to wait, though. You always find the wrong shit when you go looking."
Well Rihanna the doors at Popjustice 'HQ' are always open if you ever want a bit of a chat so keep that in mind if you're ever in or around the London area.