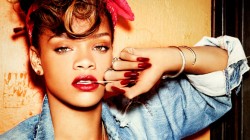 Part-time fashion designer Rihanna has a new makeup line coming out.
The 'PS (I'm Still Not Over You)' chanteuse is teaming up with MAC for four col­lec­tions over the next year under the title RiRi [Hearts] Mac.
'She' had this to say for herself about it all:
"When you think of make-up, the brand that pops into your mind — for something legit — is MAC. Whatever colour you want, it's like 'Let's go to MAC.' 'I've been using MAC on tour for such a long time it was a natural fit for me. I have always loved make-up, and I always said that if I do it, I want to do it with a credible brand.''
RiRi Woo will be the first release from the col­lec­tion, an updated 'spin' on the company 'classic' Ruby Woo red lipstick.
Such a shame they didn't go for Woo Da One. Ahahaha.