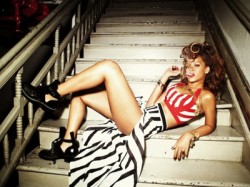 Rihanna has teamed up with Changed Man Chris Brown on not one but two duets, which were released last night.
A link to a remix of Rihanna's 'Birthday Cake' was posted to Brown's Twitter. The new version extends the short run time of the original and adds a verse each for Rihanna and Chris.
Moments later Rihanna tweeted a remix of Brown's new single 'Turn Up The Music', in which she joins him on the upbeat track.
Well. Done. Everyone.