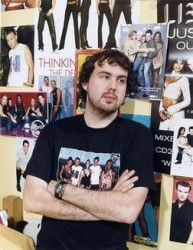 Noted pop song inventor Richard X has confirmed the existence of a song he and Hannah Robinson worked on with Girls Aloud front­wo­man Nicola Roberts.
He's also confirmed that it will be 'premiered' in a forest in the middle of nowhere to an audience of prac­tic­ally nobody.
'Taking to Twitter', the 'You (Better Let Me Love You X4) Tonight' hitmaker said: "Pleased that my Nicola Roberts track with @hazzarozza (that's Hannah Robinson, obviously) is getting its first play, in a Scottish forest, to nobody at all."
Attached to the tweet was a link to a project by Frenchbloke who will be playing unre­leased songs people send him via an FM Transmitter in Galloway forest.
The project is due to take place on October 6 and there's more inform­a­tion on it all here.