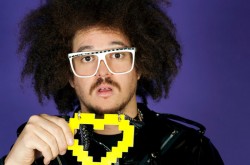 Pretend teenager RedFoo from LMFAO had a recent trip to a Japanese massage parlour ruined by the masseuse's kids being a massive fan of his terrible music.
Divulging all in Playboy magazine (as quoted here), the philo­sophet described how excited he was at the prospect of being wanked off by an attract­ive masseuse who had been hand-picked for him.
Unfortunately it didn't really work out as planned: "I got a sad ending…The masseuse was like, 'Oh, my kids love your song!' I didn't want to ask mum for sucky-sucky."
'Sucky-sucky'.
"And I was really drunk, so I passed out before she even massaged me," he concluded.
How charming.