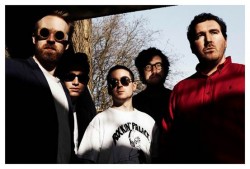 Alexis 'Tinker' Taylor of Hot Chip does not agree with a recent sci­entific paper which claims pop music is becoming blander.
In an interview with NME, the 'Playboy' hitmaker notes that "there's always exciting records being made" before adding: "I don't know whether much of that is in the main­stream at the moment."
Clearly Alexis Taylor has not heard the new Tulisa single.
In the interview he goes on to say that he believes the days of exciting R&B and hip-hop are over."Things like Rodney Jerkins pro­duc­tions and Timbaland pro­duc­tions, and everything related to Destiny's Child and Whitney Houston — they were exciting and pushing things forward," he opined, before adding: "Right now, I don't hear much of those things. I hear more trance‑y hip-hop, David Guetta-style productions."
Another recent report claimed that pop music is becoming more depress­ing. Whatever next? Gotye in 'boring' shocker?