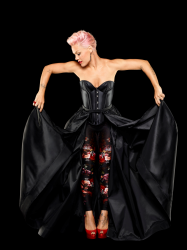 'Nobody Liver' chanteuse P'!'nk's been named Billboard's Woman of the Year for selling lots of singles and albums etc.
She'll collect the award — which has pre­vi­ously been won by the likes of Katy Perry, Beyoncé and Taylor Swift — at the 2013 Billboard Women in Music event on December 10 in New York.
"I was abso­lutely shocked and surprised to hear that Billboard named me Woman of the Year," P'!'nk told a statement.
"It's been an incred­ible year and I feel so grateful to radio for sticking by me, and to the fans and friends and all of the incred­ible talent that I was fortunate enough to work with for this album."
This is all very well, but what does Billboard's Editorial Director Bill Werde have to say about it all?
"P!nk has almost [DON'T GET TOO CARRIED AWAY BILL] been in a class by herself among women in music this year, and we're thrilled to recognize [HE MEANS RECOGNISE] her successes by honoring [HE MEANS HONOURING] her with the Billboard Woman of the Year Award."
So there we have it.