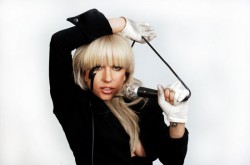 Songs from Lady Gaga's forth­com­ing album 'Born This Way' will be made available to FarmVille players before anyone else.
Between May 17 and 19, fans will be able to listen to new exclusive tracks at a dedicated GagaVille farm inside the popular Facebook game. (A couple of non-exclusive tracks will also be available to listen to, in-game, between the 20th and 23rd May, when the album is offi­cially released.)
"I want to celebrate and share 'Born This Way' with my little monsters in a special way that's never been done before," said Lady Gaga, as reported on the Let's Play With Gaga site. "Zynga has created a magical place in FarmVille where my fans can come play, and be the first to listen to the album."
The Gaga farm — which will feature magical unicorns, crystals, and sheep on motor­bikes — won't be a permanent fixture, as the promotion (which let's be honest is all this is) is due to end on May 26.