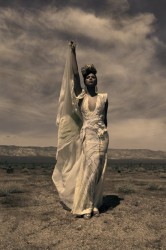 Beyoncé has released another teaser for the video for her latest single, 'Run The World (Girls)'.
In the thirty second clip — to your right is a still from the teaser — we see what looks like an under­ground carpark, some soldiers, a bit of flag waving, some ridicu­lous gold shoes, Beyoncé on a hilltop, Beyoncé in front of a burning car and, most sig­ni­fic­antly, Beyoncé on a horse.
It's rumoured there will be a "full trailer" premiere later today.
Just to clarify, that's two teaser clips and a trailer for the video to a song that's already des­cend­ing both the UK and US charts. Well done everyone.